The restaurant
& lounge bar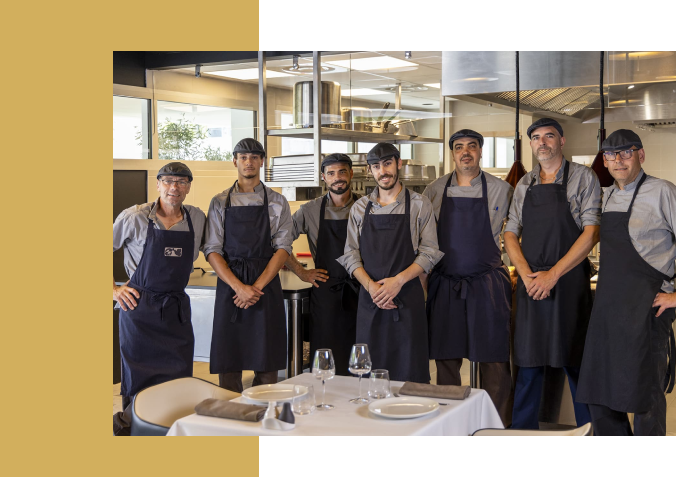 The chef and his brigade welcome you to the restaurant of the Villa Castellane in Gréoux-les-Bains, for the different gourmet moments of the day.
Our restaurant offers you the choice of lunch or dinner on the large shaded terrace opening onto the hotel's landscaped grounds or indoors in a contemporary space with warm colors, where the open kitchen gives a glimpse of the work of the chef and his brigade.
The restaurant
bistronomic restaurant
You will find the authentic flavors of a traditional bistronomic cooking privileging fresh products, of season, specialities of our Mediterranean soil, around a greedy and refined card.
The restaurant's cellar, in addition to the unavoidable French grands crus, offers a confidential selection of wines from the region's vineyards (IGP/Alpes-de-Haute-Provence, Appellation Luberon).
restaurant, lounge bar & grand cru cellar
Gourmet moments in the restaurant of the villa castellane
The restaurant of the Villa Castellane in Gréoux-les-Bains is open every day upon reservation
Morning (Breakfast buffet) from 7am to 10am
Lunch: quick service from 12:00 to 14:30
In the evening : cosy atmosphere from 7pm to 9:30pm
The bar-lounge is open between 11am and 10:30pm
Lunch and dinner at the restaurant
Suggestions of the moment
Starter / Main course or Main course / Dessert

25€

Valid only for lunch from Monday to Friday
Starter / Main course or Main course / Dessert

37€

Starter / Main course / Dessert

45€
Beef with knife, Tartar condiments, Egg mimosa, Black garlic cream

Goat's cheese from the "Bagatelle" Farm, Buckwheat tuile

Perfectly cooked farm egg,

Lentils in velouté from the "Richaud Family", Dried organic beef (This dish is also available in vegetarian version)
Richaud Family" chickpea flour in breadcrumbs, eggplant with Zaatar, black olive Viennoise, garlic juice

Small spelt from the "Richaud Family" in Risotto,

Red mullet, Celery Rave Emulsion (This dish is available in Vegetarian version)
Pear candied in honey, salted butter caramel, vanilla whipped cream, speculoos biscuit

Raspberry mousse, crispy Arlette, lemon meringue
Starter / Two Dishes / Dessert

69€
Pressed half-cooked Foie Gras, Celery Branches

Organic apple juice from "Vergers de la Maurelle", Toasted bread

Ceviche of Sea Bream, Tiger Milk

Crispy Corn, Lemon Pepper Balls
Medallion of Monkfish in a Saffron Swim next door

Parsnips in mousse, Leeks candied with Sichuan Pepper
Pan-fried fillet of beef with aromatic herbs, forest duxelles

Kale, Potato Mille-Feuille, Parsley Siphon
Choice of dessert or cheese
Perfect yuzu-coriander combination

Yuzu lemon mousse, coriander siphon, shortbread

Creamy chocolate-coffee cream, French meringue with coffee, chocolate hazelnut ice cream

Pear candied with honey, salted butter caramel, vanilla whipped cream, Speculos breakage
Beef with knife, Tartar condiments, Egg mimosa, Black garlic cream

18€

Goat's cheese from the "Bagatelle" Farm, Buckwheat tuile

Fresh Cucumber in Gaspacho

18€

Bagatelle" farm goat, roasted hazelnuts, Melba bread, fried onions

Ceviche of sea bream, Tiger milk, avocado guacamole

18€

Fennel Pickles and Rice Crisp

Creamy Stracciatella, Orange-Tonka Balsamic

19€

Green Tomato Jam from the "Richaud" Farm, Basil Oil, Raspberry and Blackberry, Thyme Focaccia
Caesar salad with grilled chicken

16€

(Romaine salad, cherry tomatoes, grilled chicken, Parmesan)

Shrimp salad sautéed with garlic butter

16€

(Mesclun de salade, Shrimps)

(Arugula, Beef heart, Burrata PDO)
Confit of beef chuck 8h, Mashed apple with hazelnut butter

27€

Mini Carrots with Pecan Crunch, Choron Sauce

Red Label Farmhouse Poultry Breast

30€

Crispy Polenta with Dried Fruits, Glazed Mini Zucchini, Madeira Sauce

Pasta from the Richaud Farm, Tartufata sauce, Truffle ham

25€

Snacked Swordfish, Asian Glaze, Cold Broccoli Velvet

28€

Smoked Green Wheat, Roasted Sesame
Signature dishes to share
Shoulder of Lamb from the House of "Joassan

55€

Confit with the Scents of Provence, Roasted Apple, Smoked Black Pepper





*For 2 persons
Baba flambé with Combava, sweet spices syrup,

12€

Fruits of the moment, vanilla whipped cream

Grand Cru Chocolate Siphon, Creamy Dulce leche

12€

Chocolate Biscuit, Spicy Cacao

Lemon-Yuzu creamy, Espuma white cheese and Coriander

12€

Shortbread cookie, Combava meringue

Arlette's Raspberry Mille-feuille, Framboise Fraîche

12€

Bagatelle" farm dishes, lemon meringue

Assortment of Ice Creams of the Moment, Crunchy Biscuit, Meringue

12€